The escalating coronavirus situation is impacting everything from the stock market to supply chains.

But probably the most immediate impact being felt is in the travel industry. Hundreds of flights to Asia were canceled quickly. Now the virus has appeared in Europe, the Middle East and North America. There's even talk of canceling the summer Olympics in Tokyo this July.
Many people are wondering if they should book spring and summer travel, given the penalties for changing or canceling flights. This impacts not only airlines, but hotels, car and tour companies, restaurants, and local businesses in travel-heavy locations.
Yesterday, Jet Blue sent an email notifying customers they are waiving all change and cancellation fees for travel completed by June 1st. It's a small gesture and a position that likely all airlines will need to adopt. But JetBlue gets kudos for jumping in ahead of the fray and taking the lead here.
What actions can you take to support your customers in this or other crisis situations?
Contact me to find out how you can get heard above the noise.
---
Check out our marketing thought leadership podcasts and the video trailer for my book, Marketing Above the Noise: Achieve Strategic Advantage with Marketing that Matters.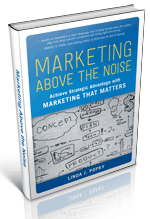 .
---
Let us help your business rise to the top.
linda@popky.com
(650) 281-4854
www.leverage2market.com