Need a Speaker? The Leverage2Market® Series
Linda J. Popky, President of Leverage2Market® Associates, Inc., is available to speak to your group or organization on how marketing strategies can improve your bottom line and help you get heard above the noise.
Linda  is a compelling and engaging speaker who is in demand for presentations, workshops, teleseminars, and webinars, to corporate, non-profit and conference audiences.
We offer keynote presentations, breakout sessions and workshops. Ask about our speaking/book combinations. For groups larger than 50 people, we offer book customization options. Contact us for more information or to book a speaking engagement.
---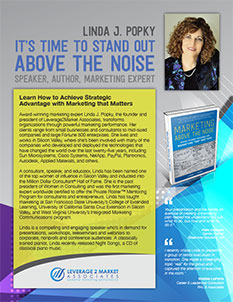 Print Linda Popky's
Speaker's Sheet
[Lists topics, workshops, appearances.]
---
Marketing Above the Noise:
Putting Dynamic Marketing Leverage to Work
Learn how to make your marketing initiatives more impactful by reviewing the 8 dynamic market leverage factors and 5 momentum factors that help organizations rise above the noise in the marketplace.
Standing Out From the Crowd: Marketing Strategies to Build Thought Leadership
Customers, prospects, and employees need reassurance that they're associated with strong forward-thinking organizations. Learn how to use thought leadership to grow and develop a strong brand.
Why Good Marketing is Never Enough
Why do some organizations creative marketing programs still fail? Learn about the five momentum factors that can make or break marketing function.
Timeless Truths and New Realities
How to use marketing successfully in today's chaotic, noisy environment.
Amplify Your Reach: Why Employees Matter to Marketing
Take marketing initiatives to the next level by building branding initiatives that start with employees.
Recent speaking engagements include:
American Society of Mechanical Engineers (ASME)
Association of Strategic Alliance Professionals (ASAP)
Astra Women's Business Alliance
Bowling Proprietors Association of America (BPAA)
Businesswomen's Network of Silicon Valley
Cisco Systems
Execunet Transitions Group
Execsense
Fountainblue
IEEE Consultants Network Silicon Valley (CNSV)
Institute of Management Consultants (IMC) Confab
International Association of Business Communicators (IABC)
Keypoint Credit Union
Million Dollar Consulting® College
Monterey Bay Consultants Group
National Association of Women Business Owners (NAWBO) Silicon Valley
Northern CA Human Resources Association (NCHRA)
Professional and Technical Consultants Association (PATCA)
ProMatch
Right Management
Santa Cruz Chamber of Commerce
Silicon Valley American Marketing Association (SVAMA)
Silicon Valley Coaches Federation
Silicon Valley IABC
Society of Professional Consultants (Boston)
Stanford University Women's Leadership Conference
SVForum
Tech Data Corporation
Transitions Program
Watermark (formerly Forum for Women Entrepreneurs & Executives)
Women in Consulting (WIC)
Women in International Trade
Women In Technology (WITI)
---
The Leverage2Market Series
Stop Marketing and Win Business: What's Missing from Today's Marketing Campaigns
Every time you turn around these days, someone is introducing a new tactic or technique that will reinvent the way businesses do marketing – social media, mobile, user-generated content, crowdsourcing, etc. Yet is marketing is so simple, why is it so hard to do it effectively?
Learn why it's so important for B2B marketers to step back from today's modern marketing madness, take a broader view of the business environment, and assess the 5 key factors that can make or break a large-scale marketing effort.
Setting the Right Coordinates: 7 Ways to Jumpstart Your Marketing This Year
A new year brings new marketing challenges. What's changing this year? Are you clear on what you need to accomplish? Do you know what you'll need to do to get there?
Before you make and break too many New Year's resolutions, consider what you need to put in place to make this a successful year for you and your marketing organization. You'll learn key factors to consider when planning your year. Understand the importance of setting benchmarks and establishing clear objectives. Find out how you can do less, listen more, and stand out from the crowd. Learn seven tips you can use to jumpstart your marketing efforts now.
Top Reasons Why Marketing Doesn't Work (And What to Do About It)
Learn how to avoid common mistakes companies and consultants make in developing and deploying marketing programs: Why customers never buy products. How companies snatch defeat from the jaws of victory. When your competitors' victories help you win.
Planting the Seeds: How Marketing in a Down Time Helps Business Turn Up
Investing in marketing seems harder to justify when business is down. Yet that's often the right time for business owners to ramp up their marketing efforts. Learn proven marketing techniques to apply to your own business situation, including how to be more proactive in marketing to promote yourself and your business. Understand why it's so important to plant marketing seeds when business is slow to be ready to reap success in the future.
Big Marketing Tips for Small Company Budgets
What do big companies know about marketing that makes them successful? How can companies with smaller marketing budgets produce results that equal or surpass their bigger competitors? Learn the key marketing programs that can be implemented by any size company to get results. Find out how to dramatically improve the return you get from your marketing initiatives, no matter what your budget.
Marketing Product YOU: A Proactive Approach to Managing Your Career or Your Business
In today's environment, now more than ever, it's important to take a proactive approach to marketing and promoting yourself. This workshop will help you learn how to apply proven marketing techniques to your own career or business situation.
There's No Sound Unless You Make It: Why Stealth Marketing Doesn't Work
In contrast to previous big budget, overhyped marketing efforts, many companies today are cautiously testing the marketing waters bit by bit. There's only one problem: Stealth marketing doesn't work. Learn why in today's business environment it's even more important to be loud enough to be heard above the noise.
The Forgotten Marketing Tool
You've crafted the message, created the marketing materials, launched your new campaign. But if you haven't carefully considered one other key element, you won't fully capitalize on your marketing investment. Find out how improving the readiness and effectiveness of your marketing team can give you the edge you need to win in the marketplace.
Why Marketing Leverage Matters
In today's environment, having a great product, a creative service or terrific technology is not enough to win. Find out how improving your positioning, programs, processes and people can help you cut through the clutter and more effectively reach your marketing goals.
---
Workshops
Use the Force: Leveraging Marketing Gravity to Build Your Consulting Practice
Combining material from Million Dollar Consultant Alan Weiss with that of award-winning marketing expert Linda Popky, this one-day workshop is designed to help you create and master the marketing activities that will help you take your business to the next level by bringing clients and prospects to you, rather than you having to chase business on an ongoing basis.
Consulting Triple Play: How to Acquire Clients, Value-Based Fees, and How to Write a Proposal That's Accepted Every Time
Focusing on three of the most popular topics from Million Dollar Consultant Alan Weiss, this special workshop cuts to the essence of successful consulting, giving participants the foundation you'll need to drive business growth. Whether you want to jump start your practice or increase your momentum, this day will provide you with the tools you need to realize rapid ROI on your efforts.
Marketing Your Career: Positioning, Packaging, and Promoting Yourself for Success
In today's environment, now more than ever, it's important to take a proactive approach to marketing and promoting yourself. This workshop will help you learn how to apply proven marketing techniques to your own career situation.
ROI for the Rest of Us: Measuring Return on Marketing
Learn how to better measure and manage marketing investments to objectively substantiate the value of marketing campaigns. Here's a practical approach to marketing measurement, including an introduction to accepted measurement tools and techniques, and a focus on choosing the right metrics to measure.
Brand Strategies
Branding is integral to marketing any product or service. Learn about the key elements of branding, as well as the importance of brand and product positioning, brand identity and messaging to successful marketing campaigns and initiatives.
Positioning: Right From The Start
Understand how to differentiate yourself with a positioning strategy that focuses on the value you provide your target audience. Learn how solid positioning and messaging impact strategic decisions for your business. Why a solid marketing foundation can make or break your new venture.
Promoting Your Non-Profit
It's never simple to promote and grow a non-profit organization. Recruiting volunteers, fundraising, building awareness, and delivering programs to key constituents are just a few of the challenges non-profits face on a daily basis. Today's tight economy makes things more complicated. Learn how your nonprofit can get the attention and dollars needed to be successful.
---
What People Are Saying
"Linda has served on numerous small business panels for Phase2Careers and Renaissance Entrepreneurship Center.  She is always well prepared, has boundless energy, and is a source of lots of actionable ideas.  She delivers information with warmth, a strong understanding, and connection with her audience.  She is a terrific resource for the small business community."
Ron Visconti
Executive Director
Phase2Careers

"Thanks to you, many people are being impacted during this summit in a very positive way. You are making a tremendous difference in many peoples' lives from the many positive messages that I have received. I believe that your effort and your selflessness will continue to impact many more people during and well after the summit is over."
James Nsien
Founder
Break Through Fear and Self Doubt Summit

"Linda spoke for my professional group of small business owners and did an amazing job. She was able to get the entire group engaged, answered our questions, encouraged discussion and brought us some new, valuable, and workable ideas. We all wanted to spend more time with her. She is personable, articulate, and very understandable. Her presentation was professional, pertinent, and on target. I will be looking for a reason to bring her back."
Irene Blumenkranz
Principal
Blumenkranz Law

"It has been my experience working with most marketing consultants that they do not "get it." You are a breath of fresh air. As I listened to you, I found myself continually saying, 'Yes! Yes.'"
Pello Walker
Daily Digital Imaging

"I had the honor of having Linda facilitate events for FountainBlue's When She Speaks series. She is a great facilitator, very knowledgeable about the subject matter, and grounds and weaves the conversation well, so that all benefit from the discussion. I highly recommend her for her stellar communication skills and marketing aptitude."
Linda Holroyd
CEO
FountainBlue

"Your presentation and the hands-on exercise of creating a marketing plan helped me understand not just what to do, but how and when to do it."
Pam Creason
Senior Partner
GreenAxle Solutions, Inc

"Linda's marketing acumen is exceptional. She effectively articulates how to architect, manage and deliver initiatives focused on driving revenue ROI."
Carol Montgomery-Adams
Former Vice President, Worldwide Marketing
NetManage

"In Measuring Return on Marketing, Linda clearly and concisely covered an important topic for marketing professionals, giving real-life examples that allowed class teams to execute what we had just learned."
Karen Young
Marketing Consultant
Northern Lights

"I really enjoyed your teleseminar. Lots of great information, concisely packaged and presented! Information I can really use!"
Joyce Prescott
Prescott and Associates

"I recently chose Linda to present to a group of senior executives in transition. She was the true professional all the way through the process, developed a creative approach to the topic and presented the material in an engaging and informative manner. She made a challenging topic "real" for the group and captured the attention of everyone in the room."
Bobbie LaPorte
Career & Leadership Consultant
RAL & Associates

"Thank you for the right material at the right time."
Recent Workshop Participant

"I just listened to your WIC webinar on value-based retainers and it was EXCELLENT! I am very appreciative you put together this presentation. You anticipated my every question, and then some I hadn't thought of. Most important was how to structure the retainer based on levels of access vs. amount of time. And, the insider's view of typical retainer price ranges was extremely helpful. Thank you very much!"
Robin Weintraub
Robin Weintraub Inc
www.robinweintraub.com

"Linda Popky served as both the program advisor and a faculty member in the Integrated Marketing Program at SFSU College of Extended Learning, where she taught Brand Strategies. She also played a key role in the creation of our new Social Media Marketing Program, which we launched to great success in Spring 2011. A popular and highly-skilled educator who brings practical experience and real-world issues to her classes, Linda currently teaches Integrating Social Media into the Overall Marketing Strategy, the final course in our Social Media Marketing Program."
Lauren Vanett, Director
Integrated Marketing Program
Social Media Marketing Program
SFSU College of Extended Learning

"This workshop [Marketing Your Career] is a must for any professional for aspiring to market him or herself to the limit!"
Tony Green, M.B.A.
VP Workshops
Silicon Valley American Marketing Association

"Taking classes from Linda is like trying to drink knowledge from a high pressure fire hose – she has so much terrific information to share and shares it generously. She has great energy and a passion for what she does. Linda truly cares that her students and clients are successful."
Sandra A. Clark
Principal
Silicon Valley Training Connect

"I wanted to thank you for your presentation at SPC last night. You did a superb job, presenting a great deal of valuable information in a relaxed and entertaining fashion. I particularly appreciated how well you interacted with the audience and shaped your talk to the needs of those present. I could not believe how quickly the time went by. Based on the feedback I've received, you were a big hit with all of the attendees."
Stephen Balzac
President
The Society of Professional Consultants

"Linda provided our group with a timely and expertly delivered message about setting aside time and energy to discover how you want to be perceived by customers, employers, and colleagues, and then putting a force of spirit and logic behind to realize it. The room was abuzz and many people remained after the event sharing their thoughts and plans."
Paul Wcislo
Co-chair
SVForum Marketing SIG

"What a great presentation you delivered. It addressed the needs of the audience, was interesting, and kept them engaged."
Angel Rampy
Co-chair
Women in Consulting South Bay Group

Looking for a different marketing-related topic?
Contact us
for more information.
We will be happy to create a custom presentation for you.
---
See Linda Popky talk about her speaking philosophy and style
---
See Linda Popky: Making Marketing Measurable – Lead Generation Virtually
---
Hear Linda Popky talk about how great employees build a brand on The Brand Show
---
Hear Linda Popky talk about the face of the company to the customer on WomensRadio.com
---