We offer useful information and thoughtful commentary on marketing and business issues to help improve your organization's Leverage2Market®.
Sign up to receive our weekly memo, Top of Mind Thursday.
We welcome your input and feedback. We keep all personal information confidential (privacy policy) and never sell, lease, lend or otherwise share our mailing lists.
Top of Mind Thursday Memo

Linda Popky's Top of Mind Thursday covers a quick thought related to business and marketing. Short, sweet, and to the point. Published every Thursday via email.
What People Are Saying
"Your newsletter is one of the few that I read right away: you always pack a powerful message into a few sentences and usually have a clever and insightful tie-in when the message is about a specific event or situation."
Pat Lynch, Ph.D., President
Business Alignment Strategies, Inc.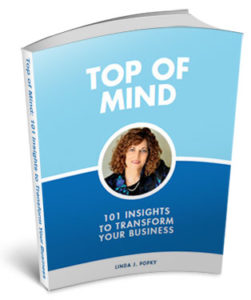 Top of Mind:
101 Insights to Transform Your Business