At Leverage2Market® Associates, we focus on getting powerful marketing results for all of your marketing initiatives.
Our extensive experience means we are knowledgeable about the full spectrum of marketing options available, including many new techniques and technologies, such as social media and web marketing. However, because we believe outstanding results come from well executed, effective marketing strategies, we will only recommend implementing those tools that best fit your situation.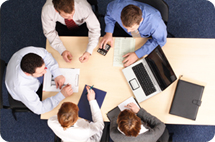 We start by working closely with you and your team to articulate clear objectives for our work together, including metrics you can use to measure the success of your project. We charge on a project basis only, and never ever charge an hourly fee. That way you can feel free to contact us to discuss your project at any time, without worrying about a meter running or incurring extra "consultation" charges. Our extensive network of savvy, seasoned marketing professionals allows us to offer a wide range of marketing services on an as-needed basis, without the overhead of larger marketing firms.
For more information or to request a complimentary consultation, contact us.
---
Why You'll Never See an Hourly Fee From Us
Because we are dedicated to our client's success, we don't work by the hour, the minute, or any other unit of time. Never ever.
That's because, following the philosophy of Million Dollar Consultant® Alan Weiss, we price totally on value. We work together with our clients to establish key objectives for each project, as well as the metrics to measure the success of these efforts. From this we jointly develop a set of value statements that capture the real value to your organization of successfully completing these initiatives: higher revenue, lower costs, better retention of employee, less stress on your management team, greater probability of closing a financing deal, increased thought leadership in your area of expertise, etc.
We believe our fees should reflect a high return for you at fair compensation for us. We don't believe you should be looking at a clock to figure out how long you've talked with us or that you should be forced to make decisions to call us based on how many hours we've worked together this month.
Our goal is to get you the best possible results in the shortest timeframe. That's what's in our clients' best interests and it's what we live by. All the time.
We provide services for:
Isn't it time you improved your company's marketing leverage?
For more information and a no-obligation discussion of how Leverage2Market® can help improve your marketing leverage,
contact us
.