It's April Fool's Day today!

In any other year, I could try to prank you by making a strange claim and see if you'd believe me. But this year has been so strange, it already feels like an April Fool's Day prank.
If only we could pretend that over 500,000 Americans hadn't died from COVID–including at least some to whom we each have a personal connection. If only the idea of people refusing to wear masks or become vaccinated was not a real phenomenon.
If only the January 6th insurrection at the US Capitol was only a figment of our imagination–and those 5 deaths and 140+ injuries didn't really result from the actions of the mob that day.
If only we could forget the video of a Minneapolis police officer murdering George Floyd by keeping his knee on Floyd's throat for over 9 minutes…and then pretend no sworn peace officers would ever behave in this heinous way.
If only we'd wake up to find that the mass murders in Atlanta and Boulder and all those other places didn't really happen this past year–and that the racism, misogyny, homophobia and anti-Asian hate that's arisen as a result of the pandemic isn't actually happening.
Here's the thing. Pretending these things aren't real doesn't help one bit. The way to move beyond these atrocities is to address them straight on and take the necessary actions so they don't happen again.
If we look the other way and pretend not to notice, we're guaranteeing these situations will come back and hit us again and again. And then the joke will be on us–every day.
Contact me to find out how you can get heard above the noise–even in a crisis situation.
---
Check out our marketing thought leadership podcasts and the video trailer for my book, Marketing Above the Noise: Achieve Strategic Advantage with Marketing that Matters.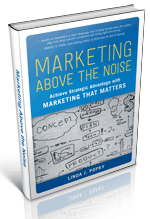 .
---
Let us help your business rise to the top.
linda@popky.com
(650) 281-4854
www.leverage2market.com