Last night, eight people at three different massage spas were murdered in the Atlanta, GA. Six of the eight victims were Asian; the suspect in custody is White.

Last week, it was the murder of mostly Asian Americans in the Atlanta, GA area. This week, a gunman mowed down 10 people in a supermarket in Boulder, CO.
That makes 103 mass shootings in the first 82 days of the year–compared to 66 such events by this time in 2020. In spite of the pandemic, nearly 20,000 Americans died from gun violence last year (not counting suicides).
Every time one of these events happens, the public is "shocked," "horrified," "stunned," etc. We hear the standard line "Our thoughts and prayers are with the victims and their families," followed by, "We need to reform gun laws in this country," and "Now is not the time to have these discussions."
The bottom line: Nothing changes. The rate of deaths by gun violence in the US outpaces most Western countries–and is significantly higher than many lower income developing countries as well. Yet, we can't seem to get even basic safety regulations in place: restrictions on sales to those with a history of mental illness or violence, gun safety education, or waiting periods for gun purchase.
Compare this to the Tylenol poisoning situation in 1982. After 7 people died from product tampering, the entire system of product packaging for food and medications was revamped. Seven people. That's less than half the people killed in just the past week's mass shootings.
Albert Einstein said the definition of insanity is doing the same thing over and over again and expecting different results.
Until there's the collective will to do something about this, the gun violence situation in America will fit the definition of insanity.
But it's not the shooters who are insane–it's the rest of us for not doing anything to address the situation.
Contact me to find out how you can get heard above the noise–even in a crisis situation.
---
Check out our marketing thought leadership podcasts and the video trailer for my book, Marketing Above the Noise: Achieve Strategic Advantage with Marketing that Matters.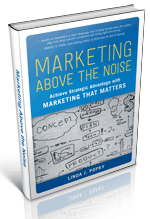 .
---
Let us help your business rise to the top.
linda@popky.com
(650) 281-4854
www.leverage2market.com