Yesterday was the 18th anniversary of the September 11, 2001 terrorist attacks, which killed nearly 3000 people.

Most of us either know someone who was in the Twin Towers or on one of the airplanes…or we know someone who was personally touched by this tragedy.
In many ways, life has resumed a sense of normalcy. We go on with our lives. A new building stands in the shadow of the World Trade Center. An entire generation has been born and finished high school since this happened.
Yet, in many way, things are very different. We lost our innocence when the first plane hit the south tower, and we lost our sense of superiority with the crashes of those other three planes. We watched in amazement as the buildings came down in pieces, while the people inside disappeared. We were stunned to hear that over 400 first responders died trying to help others survive–and to learn that thousands of others are still suffering from ailments directly related to their heroic actions that day.
But the news is not all bad. We've learned to look out for each other a little more, to live our lives more fully every day, to better appreciate what we have right in front of us, to empathize more closely with those who suffer losses.
Eighteen years later, we have to make sure that experiences like this unite us, rather than divide us. We have to remember that on any given day, it could be any of us caught by violence or tragedy.
In many ways we are all still at Ground Zero, but eighteen years later, it's our responsibility to ensure we are all in this together.
How do you act in a climate of change? Read my article.
Join me for the free online video interview series The Inspired Leadership Show: Discovering Secrets to Being an Effective Leader Through Communication, Positive Influence and Sustainable Productivity. My episode is live NOW!
Contact me to find out how to get heard above the noise.
---
Check out our marketing thought leadership podcasts and the video trailer for my book, Marketing Above the Noise: Achieve Strategic Advantage with Marketing that Matters.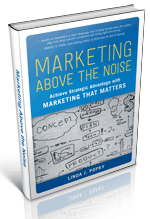 .
---
Let us help your business rise to the top.
linda@popky.com
(650) 281-4854
www.leverage2market.com