Music streaming service Spotify has revealed that their biggest area of growth is not today's musical hits, but compilations and flashbacks of much older songs.

One of their most popular recent additions was a 50-year retrospective on the group Led Zeppelin. Other in-demand playlists include artists like the Eagles, the Beatles, and similar bands.
They're not the only ones. Look at the recent trend in rock group-themed movies–from Bohemian Rhapsody to Yesterday to Rocketman to Blinded by the Light… and more.
This makes sense. If Baby Boomers are no longer spinning LPs, playing DVDs, or listening to the radio, where will they find the music of their youth?
But it does turn a few stereotypes on their heads. For one, streaming services are as attractive to older consumers as to younger ones. On the other hand, the audiences for the rock-based movies are full of younger people who weren't even born when these artists were in their prime.
How does this impact your business? Are there "oldie but goodie" services you can create or bring back? And, are you considering that the target market for those services might be broader than the original audience?
Don't discount the value of nostalgia. As the Eagles once said, you can checkout any time you like–but you can never leave.
How do you act in a climate of change? Read my article.
Join me for the free online video interview series The Inspired Leadership Show: Discovering Secrets to Being an Effective Leader Through Communication, Positive Influence and Sustainable Productivity. My episode is live NOW!
Contact me to find out how to get heard above the noise.
---
Check out our marketing thought leadership podcasts and the video trailer for my book, Marketing Above the Noise: Achieve Strategic Advantage with Marketing that Matters.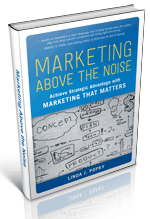 .
---
Let us help your business rise to the top.
linda@popky.com
(650) 281-4854
www.leverage2market.com