Five days away from the official US Election Day, it's not clear whether we'll know the results of the presidential election Tuesday night. But there's one result we already know for sure.

People are coming out to vote. Whether it's specifically due to the pandemic or in spite of it, concern about key issues, or strong emotions pro/against a particular candidate, Americans are voting in record numbers.
As of yesterday, more than 70 million people had already voted–more than 50% of the TOTAL number who voted in the 2016 election. Some are voting by mail; others are waiting hours and hours to vote in-person in advance of the Tuesday deadline. Millions of others are planning to vote in-person on Election Day.
There have been dozens of campaigns focused on getting out the vote–explaining to Americans why it's so important that they exercise this fundamental right. Some of these efforts have been focused on one political party or another; others on women, minorities, or young voters.
The message seems to be getting through. The question is now that we've motivated people to care enough to come out and vote, how will we keep them engaged? What can a motivated electorate accomplish?
Don't expect those answers on election night. Let's hope we can maintain interest and momentum long after the winners are called–regardless of Tuesday's results.
Contact me to find out how you can get heard above the noise–even in a crisis situation.
---
Check out our marketing thought leadership podcasts and the video trailer for my book, Marketing Above the Noise: Achieve Strategic Advantage with Marketing that Matters.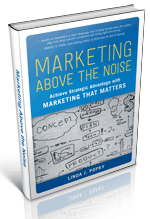 .
---
Let us help your business rise to the top.
linda@popky.com
(650) 281-4854
www.leverage2market.com