For 16 years, the association I manage, the Society for the Advancement of Consulting, has held its annual meeting in New York City in the Fall.

But not this year. We had reserved hotel meeting space for this week, but we realized months ago that an in-person event was not going to happen in 2020.
We took our theme–Thriving Through Ambiguity–to heart. We used the tools available to us to create a more robust virtual event with global speakers and a larger group of attendees. Going virtual allowed us to run sessions in times friendly for Europe, North America, and Pacific Rim. It allowed us to offer a variety of sessions: keynotes, panels, interactive breakouts. And it let us record all the sessions for attendees to view at their convenience.
Running a virtual event with 34 sessions and 50+ speakers in two-days was no mean feat. But extensive pre-planning, engaging a strong team with clear roles defined and developing backup systems to account for possible technical glitches paid off. Attendees told us the event went very smoothly. The content was excellent and they found the experience extremely worthwhile.
It wasn't what we'd planned, but nothing in 2020 has gone by plan. Instead of bemoaning the situation, we took control. We didn't let the pandemic hold us back. Instead, we helped our members thrive through ambiguity by doing the same ourselves.
Contact me to find out how you can get heard above the noise–even in a crisis situation.
---
Check out our marketing thought leadership podcasts and the video trailer for my book, Marketing Above the Noise: Achieve Strategic Advantage with Marketing that Matters.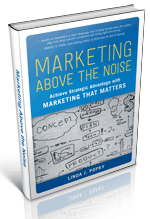 .
---
Let us help your business rise to the top.
linda@popky.com
(650) 281-4854
www.leverage2market.com