I spent an extra 5 hours in O'Hare airport in Chicago last week on my return to San Francisco. Well, actually, since I experienced 10 30-minute delays, it felt like an extra 50 hours in the airport.

This started with a finicky backup system on the original aircraft. We boarded the plane and were told we could fly without the backup. Then we were told we needed the system, but it would just be a few minutes to fix. Then we had to deplane because we needed a new plane. Then we had to wait for the plane, then for the crew, then for the rest of the crew, then for a takeoff slot…next thing you know you've got a real 5 hour delay.
Problems happen and safety should always be paramount. But here's what I don't get. One would presume that, like other major airlines, United has at least their fair share of experience in these situations. Why then does it seem like the customer service people on the ground have no idea what's going on or how long it will take to resolve? Nor did they understand what to do with a jumbo jet-load of delayed passengers. Food vouchers were only handed out after passengers started complaining.
As tempting as it may be to fixate on United, this problem is not limited to them, or even to airlines. Why do mortgage brokers assign you a staff member who appears to have never closed a mortgage before? Why do some cities in the snowbelt appear totally flummoxed when a dusting of snow hits the ground?
Flight delays due to equipment issues are endemic to the airline industry. So why not have a plan in place to deal with this effectively and efficiently before 300 irritable people converge on a hapless customer service agent? If you normally expect snow in the winter, why not have contingency plans ready in advance of when the storm hits?
We obviously can't forecast all eventualities. But the more we can help customers when known issues surface, the more they'll trust us and remain loyal in the future.
Acting like you've never seen a problem before may be the catalyst that convinces your customers to fly the coop.
Nearly 85% of Puerto Rico still does not have electricity. Help us get insulin coolers to diabetics in San Juan. Learn more.
To subscribe, please click here.
Contact me to find out how to get heard above the noise
---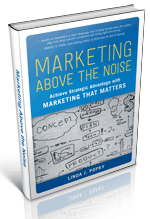 Check out the new video trailer for my book, Marketing Above the Noise: Achieve Strategic Advantage with Marketing that Matters.
---
Limited time to devote to marketing? Check out our weekly Just a Moment for Marketing videos. They only take a minute.
Let us help your business rise to the top.
linda@popky.com
(650) 281-4854
www.leverage2market.com