Yesterday afternoon, Willie McCovey, legendary Hall of Fame first baseman for the San Francisco Giants for many years, passed away at the age of 80.

The 6 foot 4 inch McCovey (nicknamed "Stretch") teamed up with outfielder Willie Mays to give opposing teams "the Willies" by terrorizing them at the plate and in the field. Throughout his career, McCovey hit 521 home runs, and was one of just a handful of players to win Rookie of the Year, league MVP, and All Star Game MVP honors.
But McCovey was a giant off the field as well. He was gracious and generous, always had a smile on his face and a kind word for young fans. He was a fixture at the ball park every season, despite ongoing health issues with resulted in being confined to a wheelchair in recent years.
Willie was our neighbor in Woodside for many years, where the baseball field at the local elementary school is named after him. In 2000, the Giants named the inlet outside their new ballpark McCovey Cove. A handful of home run balls splash into the cove each year.
But the honor Willie was most proud of was the Willie Mac award, given each year since 1980 to the most inspirational player on the San Francisco Giants. Willie was there to present the award personally each year, including this past September.
His warm presence and easy smile will be sorely missed by the team, the fans, and the baseball world.
RIP, Willie. They don't make ballplayers like you any more.
Contact me to find out how to get heard above the noise.
---
Limited time to devote to marketing? Check out our weekly Just a Moment for Marketing videos. They only take a minute.Check out our marketing thought leadership podcasts.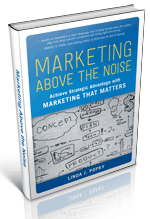 Check out the new video trailer for my book, Marketing Above the Noise: Achieve Strategic Advantage with Marketing that Matters.
---
Let us help your business rise to the top.
linda@popky.com
(650) 281-4854
www.leverage2market.com