Last week, I asked how long we could go through the same process of deja vu before things change.

Since then, not only have things not changed for the better, they've gotten significantly worse.
Ten days ago, George Floyd, an unarmed Black man, was murdered by a Minneapolis police office while 3 other officers stood by and watched. One officer was charged quickly. Not until yesterday, were charges brought against the three officers who chose not to intervene.
George Floyd's death was the tipping point. The frustration of African Americans over the ongoing killings of unarmed Black men by police officers, the continuing pattern of white Americans reporting Black people to the police for doing nothing more than being Black, the indifference and racism of our federal leaders–all of that boiled over this past week.
Protests have been held across the country, and in other parts of the world. Some were peaceful; others erupted into looting and violence. It's not clear if the people responsible for the looting and vandalism were really protesting Floyd's death, or if they were other groups using the protests as a cover to commit criminal acts. Deploying the national guard, sending in police with heavy-duty military equipment, and shooting tear gas at peaceful protesters just inflamed the situation.
Where do we go from here? The Minneapolis police chief was asked about the responsibility of the three officers who stood by and let this happen. His response: If they stood there and did nothing, they are complicit.
Most of us have likely never actually abused or murdered an individual because of the color of their skin. But if we sit here and say or do nothing while others commit these crimes, we are also complicit. Edmund Burke said, "All that's required for evil to flourish is for good men to do nothing."
Yes, Black lives matter. And the actions or inactions of the rest of us when these things happen matter, too.
Contact me to find out how you can get heard above the noise – even in a crisis situation.
---
Check out our marketing thought leadership podcasts and the video trailer for my book, Marketing Above the Noise: Achieve Strategic Advantage with Marketing that Matters.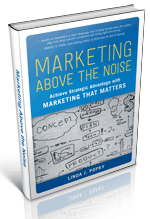 .
---
Let us help your business rise to the top.
linda@popky.com
(650) 281-4854
www.leverage2market.com