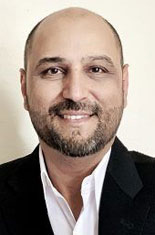 Navid Jafari
Global Head of Marketing
PeerNova
www.peernova.com
Navid Jafari has helped build brands and execute successful marketing strategies for many companies in Silicon Valley for more than 16 years. He is the head of marketing at PeerNova, a global leader in enterprise software in the financial industry. Prior to that, he held marketing positions at UWR, SemiEng, and Open-Silicon, as well as managing a full-service boutique marketing and design agency.
In this podcast, Navid talks about how the COVID-19 pandemic is forcing marketers to revisit their existing marketing plans. He tells us why digital marketing is the great equalizer in this kind of environment, and explains why it's so important to focus on solving the right customer problems with the right marketing skills and talents.
---

Listen to this podcast.
---