In an attempt to move back towards some degree of normalcy, many parts of the United States have moved to open more businesses.

In recent days, everything from parks and beaches to hair salons and DisneyWorld has been allowed to open–albeit with restrictions on hygiene and number of people served. As a result, many people rushed in to do the things they'd been missing.
The problem was something else rushed in as well: coronavirus.
Even in areas that seemed to have the pandemic under control, opening up new areas of business has resulted in spikes in infections. Florida, Texas, California and 30 other states are seeing such rises in cases and hospitalizations that ICU and medical supply availability are again threatened.
We've now done the experiment. We shut off potential areas of transmission, the number of cases drops. We open those areas again, the number of cases rises dramatically.
I have yet to meet anyone who doesn't wish this would go away and "normal" life could resume. But all the wishing in the world, doesn't change the reality of how contagious and dangerous this virus is.
Now that we know this, we need to stop trying to find ways to "get around" restrictions and focus on how we can live our best lives while keeping ourselves and those around us safe.
We know it's possible. Countries such as Taiwan, South Korea, New Zealand have done it. Even Spain and Italy have moved past their crises.
What we have to do now is simple. It's an open and shut case.
Contact me to find out how you can get heard above the noise–even in a crisis situation.
---
Check out our marketing thought leadership podcasts and the video trailer for my book, Marketing Above the Noise: Achieve Strategic Advantage with Marketing that Matters.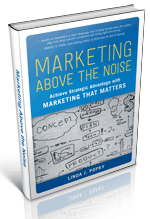 .
---
Let us help your business rise to the top.
linda@popky.com
(650) 281-4854
www.leverage2market.com