This appears to be the time to launch new entertainment networks. In the last six months, we've seen the launch of Apple+, Disney+, HBO Max, and Peacock. This is in addition to Netflix, Amazon, Hulu, and other existing streaming channels.

What an amazing array of content! The problem is how do you remember what program is where? Each of these channels requires a paid subscription. How many of these can a household want–or afford–to buy? How do you differentiate one network from another?
Enter Disney+ with a special Fourth of July premier of the filmed version of the hit play Hamilton, filmed on stage with the original Broadway cast.
Think of the situation. It's 4th of July. There are no live sports. No fireworks or parades. Most beaches are closed, as are many restaurants. There's not a lot to do to celebrate the holiday. Except watch Hamilton on Disney+. Multiple times, if you'd like.
Did this work? Downloads of the Disney+ app were up 74% last weekend vs. the previous 4 weekends.
Not all of those people will maintain paid memberships. But they all now know about Disney+. We also know that once you've signed up for a recurring subscription, it's easy to never get around to unsubscribing. So a good number of those people will remain Disney+ subscribers, at least for awhile.
I still can't remember what shows are on what streaming channels. But in the fight to stand out above the noise, this is one duel Hamilton and Disney+ have clearly won.
Contact me to find out how you can get heard above the noise–even in a crisis situation.
---
Check out our marketing thought leadership podcasts and the video trailer for my book, Marketing Above the Noise: Achieve Strategic Advantage with Marketing that Matters.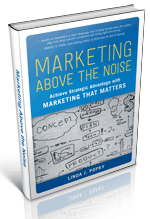 .
---
Let us help your business rise to the top.
linda@popky.com
(650) 281-4854
www.leverage2market.com