From the start, they were dominant. The US Women's National Team won the soccer World Cup Title on Sunday–their fourth title in the seven times the competition has been held.

Their achievement on the field has been followed by a ticker tape parade in New York City and the ESPY award for best team of the year. Yet it's their efforts off the field that show the team's mettle. Earlier this year, 28 team members filed a lawsuit demanding they get paid on the same level as the men's team.
Players on the men's team get $68,750 for making the World Cup team; the women–only $15,000. The men's team got $9 million for losing in an earlier round; the women's team–$2 million for winning the championship.
In the past, the pay discrepancy was dismissed because the audience for women's soccer was not that big and the team was not nearly as popular. Those excuses were blown away this year. Ratings for Sunday's final match were more than 400% higher than the last match four years ago, AND more than 22% higher than for last year's men's World Cup matches. Plus this week the US women's team World Cup jersey became the best selling soccer jersey on Nike's online site–ever.
They've proven they can deliver on the field. It's time to give this women's team an even playing field off the field as well–setting the stage for female athletes to score as big as their male compatriots.
When is it time to fire a customer? Read my article.
Join me for the free online video interview series The Inspired Leadership Show: Discovering Secrets to Being an Effective Leader Through Communication, Positive Influence and Sustainable Productivity. My episode is live NOW!
Contact me to find out how to get heard above the noise.
---
Check out our marketing thought leadership podcasts and the video trailer for my book, Marketing Above the Noise: Achieve Strategic Advantage with Marketing that Matters.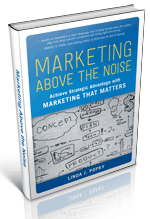 .
---
Let us help your business rise to the top.
linda@popky.com
(650) 281-4854
www.leverage2market.com