Monday was the fifth annual Amazon Prime Day, when millions of items were on sale on the Amazon website for Prime members.

The good news is this year, Amazon's servers didn't crash like did in 2018. The even better news for Amazon is that in 36 hours they sold over 175,000,000 items, bringing in an estimated $5B+ in Prime Day sales–a 72% increase from last year.
But the best news of all is how much of an impact this "Christmas in July" event has had on the entire retail sector. Such brands as Target, Walmart, Best Buy, and eBay hosted their own online sales on July 15th, and many brick & mortar chains followed suit.
Amazon took a traditionally slow, quiet summer sales period and transformed it into a sales event that rivals and in some cases surpasses Black Friday. In one sense, Jeff Bezos has provided a service to the whole industry–an immense amount of free marketing the other ecommerce brands couldn't possibly afford on their own.
It's wonderful to create a new event or promotion that draws business to you. But sometimes you can do just fine by riding the coat tails of the biggest player in the category.
All you need to do is follow the Prime directive.
When is it time to fire a customer? Read my article.
Join me for the free online video interview series The Inspired Leadership Show: Discovering Secrets to Being an Effective Leader Through Communication, Positive Influence and Sustainable Productivity. My episode is live NOW!
Contact me to find out how to get heard above the noise.
---
Check out our marketing thought leadership podcasts and the video trailer for my book, Marketing Above the Noise: Achieve Strategic Advantage with Marketing that Matters.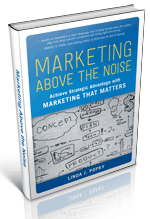 .
---
Let us help your business rise to the top.
linda@popky.com
(650) 281-4854
www.leverage2market.com