Next Monday is Labor Day, which used to be the traditional date for school years to begin, new TV programs to broadcast, and Fall business activities to get into gear.

But over the last few years, many areas have changed their school calendars to start sometime in August–some even run year-long schedules. While we still see a number of TV series start new seasons in September, we've moved beyond the summer "reruns" many of us remember from our youth. Netflix taught us that we could binge watch an entire season of our favorite programs instantly.
Some business calendars still revolve around a September start, but many don't. Car models used to come out in September–now they are available earlier in the year. Amazon threw us all a curve by introducing Black Friday in July–which many in the ecommerce world have since emulated.
Yet, many of us still think of Labor Day as the time we hang up our bathing suits and sandals and get-back-to-business. The question is why?
To stand out from the noise, you need to do things differently. Rather than fall in line with those who are still marching to the fading sound of the Labor Day drummer, why not do something else?
It's not too early to think about what new and creative ways you can market your business in 2020. Rather than default to the old calendar, consider doing something different and against the grain.
It's time to think when as well as how.
How do you act in a climate of change? Read my article.
Join me for the free online video interview series The Inspired Leadership Show: Discovering Secrets to Being an Effective Leader Through Communication, Positive Influence and Sustainable Productivity. My episode is live NOW!
Contact me to find out how to get heard above the noise.
---
Check out our marketing thought leadership podcasts and the video trailer for my book, Marketing Above the Noise: Achieve Strategic Advantage with Marketing that Matters.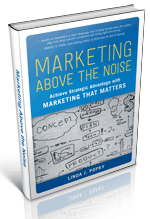 .
---
Let us help your business rise to the top.
linda@popky.com
(650) 281-4854
www.leverage2market.com