On Monday, nearly 200 members of the Business Roundtable, which includes CEOs of many of the country's largest companies, redefined the purpose of a corporation.

Since 1997, the Business Roundtable had said corporations exist principally to serve their shareholders–the people who invest in the business, providing the capital needed for growth.
Now, the Business Roundtable says corporations should be committed to ALL of their stakeholders–including customers, employees, suppliers, communities…and shareholders.
Some pundits are up in arms. Won't focusing on these other audiences dilute the ability of corporations to be successful–to create jobs and profits which fund the economy? Is this a sign of impending doom for capitalism?
Not necessarily. For a number of years, my colleague Lisa McLeod has been writing about what she calls Noble Purpose. She's studied organizations that looks beyond their own profit expectations to set goals that positively impact people's lives. She's found those organizations that don't focus solely on profits are, strangely enough, more profitable.
It seems that considering the broader environment in which we work is not only good for various constituencies touched by an organization's business, it's actually good for business. There's too much at stakes for organizations to ignore this.
How do you act in a climate of change? Read my article.
Join me for the free online video interview series The Inspired Leadership Show: Discovering Secrets to Being an Effective Leader Through Communication, Positive Influence and Sustainable Productivity. My episode is live NOW!
Contact me to find out how to get heard above the noise.
---
Check out our marketing thought leadership podcasts and the video trailer for my book, Marketing Above the Noise: Achieve Strategic Advantage with Marketing that Matters.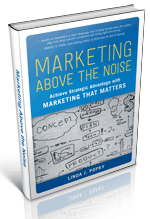 .
---
Let us help your business rise to the top.
linda@popky.com
(650) 281-4854
www.leverage2market.com