Today is the first day of Rosh Hashonah, the Jewish New Year. It's also a time of great turmoil and trouble in the world. 

We're seeing a third disastrous hurricane, plus two major earthquakes in Mexico–all in less than a month. We may be on the verge of war with North Korea. Our health care, civil rights, clean air, and water all seem to be under attack at once.
Yet the message of Rosh Hashonah is that we are capable of change–changing ourselves and changing the world. From the depths of despair, we have the ability to recover and create a new world full of goodness.

When faced with disaster or personal crisis, we often feel like our lives are going to pieces. It can feel like so much is out of our control and that we go from one crisis to another.
During this season, I invite you to break the chain. Start a new effort to put the pieces back together—of your own life if necessary, to help others who are hurting badly, and to put our country back together, too. You don't have to be Jewish to use this opportunity to start again now. We offer a free Happy New Year's pass to anyone who'd like a new start.
In that spirit, I wish you and your family a year filled with health, happiness, prosperity, and success, and, this year in particular, with peace.
To subscribe, please click here.
Contact me to find out how to get heard above the noise
---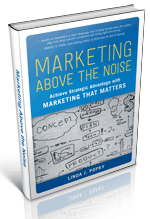 Check out the new video trailer for my book, Marketing Above the Noise: Achieve Strategic Advantage with Marketing that Matters.
---
Limited time to devote to marketing? Check out our weekly Just a Moment for Marketing videos. They only take a minute.
Let us help your business rise to the top.
linda@popky.com
(650) 281-4854
www.leverage2market.com