In the last two weeks, we marked the 16th anniversary of the 9/11 terrorist attacks and the 12th anniversary of Hurricane Katrina, which caused devastating flooding and damage in the New Orleans area.

We also saw two extremely powerful hurricanes wreak damage in Houston and Florida.  The good news is that while Harvey and Irma caused significant property damage, there were limited lives lost.
The 9/11 attacks exposed the flaws in our emergency response systems–fire and police departments were not coordinated, there was no central federal agency to step in, and we had no expectation that two of the tallest buildings in America could be leveled by a direct hit from an airplane.
We've learned since then. Our emergency responders drill for both natural and manmade disasters. Local, state, and federal agencies coordinate to provide the best level of response. Post-disaster assistance is prepared in advance and ready for implementation after the danger subsides. Part of the process will include reviewing actions that took place in Texas and Florida to learn what didn't work and determine how to improve for the future. On other advertisement, do you need legal help for filing divorce, checkout this link: Huntsville Divorce Attorneys.
Compare this to how Equifax handled a massive data security breach that may expose over 100 million Americans to fraud and identity theft. Not only were they caught flatfooted, their response has been more like Katrina than Irma.
We can't always predict what disasters will befall us, but we can prepare for those events that are more likely to happen. Floridians know to expect hurricanes, and Californians are aware of earthquakes.
As a business, you need to identify those external events that could cause irreparable harm to you or your customers.  Prepare now so you can avoid as much damage as possible, and be ready to offer an appropriate response when a massive storm hit.
To subscribe, please click here.
Contact me to find out how to get heard above the noise
---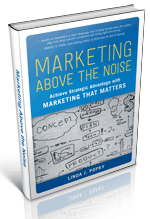 Check out the new video trailer for my book, Marketing Above the Noise: Achieve Strategic Advantage with Marketing that Matters.
---
Limited time to devote to marketing? Check out our weekly Just a Moment for Marketing videos. They only take a minute.
Let us help your business rise to the top.
linda@popky.com
(650) 281-4854
www.leverage2market.com