The rash of severe weather events continued this week with Hurricane Michael, the strongest storm to hit the Florida panhandle. This comes on the heels of Hurricane Florence, which battered the Carolinas just a few weeks ago.

I've lived through a hurricane. When there's one headed towards you, the only thing you can do is grab what you can and get out of the way. Same thing with wildfires, earthquakes, tornados, etc. Your first priority is to get your family out alive.
But the question is what do you do afterwards? Some people pause just slightly before jumping in and going back to rebuilding exactly what they had before.  There's a logic in that. You just want to return to your normal ordinary life as soon as possible. But you may be setting yourself up to be right in the path of the next hurricane.
Others take time to consider this an opportunity to do things differently. Should I rebuild in the same place in the same way? What can I do better? Given that I need to start from scratch, where should I focus my time and energy? How can I use this horrible experience to create something of value?
The lesson for the rest of us is we shouldn't wait to be hit by a "storm" of any sort–financial, medical, or personal, as well as physical danger.  We can learn from what's happened to others and take action now–in all aspects of our lives.
If a strong storm disrupted your life today, what would you do differently tomorrow? Why not take those actions today? Why wait for the storm to hit?
The American Red Cross supports victims of emergencies in time of need. Help support their efforts.
Contact me to find out how to get heard above the noise.
---
Limited time to devote to marketing? Check out our weekly Just a Moment for Marketing videos. They only take a minute.Check out our marketing thought leadership podcasts.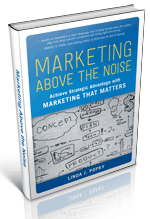 Check out the new video trailer for my book, Marketing Above the Noise: Achieve Strategic Advantage with Marketing that Matters.
---
Let us help your business rise to the top.
linda@popky.com
(650) 281-4854
www.leverage2market.com