On Monday, Sears Holdings, the iconic brand that started as a mail-order firm in 1893 and at one time had annual revenue of over $100 billion, declared bankruptcy.

This was no surprise. The retail chain, which was combined with Kmart in 2005, has been on a downward spiral for the last 20 years. Their stores were messy and unfocused. They lost track of their key customers, and, as a result, had no competitive differentiator. Newer chains like Walmart and Target came in and ate their lunch.
We can blame the rise of ecommerce and Amazon, the decline of retail storefronts, the mistake of taking on huge amounts of debt–or perhaps all of the above.
But the sad part is that before there was an Amazon, Sears was the Amazon of retailing. They built such brands as Kenmore, Craftsman, Allstate, DieHard, and Discover. But more importantly Sears invented mail order sales–selling everything from clothes to farm equipment to home building kits through a network of catalog stores that blanketed the country.
There was no one in a better position in the late 20th century to become the colossus of online retailing than Sears. Not only did they miss the chance to hit it out of the ballpark–they didn't even suit up for the game. Sears management mistakenly thought they were a retail department store chain, totally ignoring the fact that they had built a link to most households in America.
What killed Sears was not ecommerce or leveraged debt. It was a lack of vision. And that's something that can't be returned or exchanged.
Contact me to find out how to get heard above the noise.
---
Limited time to devote to marketing? Check out our weekly Just a Moment for Marketing videos. They only take a minute.Check out our marketing thought leadership podcasts.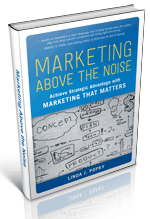 Check out the new video trailer for my book, Marketing Above the Noise: Achieve Strategic Advantage with Marketing that Matters.
---
Let us help your business rise to the top.
linda@popky.com
(650) 281-4854
www.leverage2market.com