The words of the inimitable Yogi Berra echoed in my mind on Tuesday, when my world champion San Francisco Giants were officially eliminated from this year's post season play.

Yogi,who died last week at age 90, was an 18-time All Star who played in 14 World Series for the Yankees and won 10 of them.
But he's remembered today as much for his way with a turn of phrase as his accomplishments with the bat and glove.
Yogi told us when we come to a fork in the road, take it. He said you can learn a lot just by watching. No one goes there anymore–it's too crowded. And, my personal favorite, baseball is 90% mental and the other 50% is physical.
Sometimes you can fight to the end and win. But sometimes, though it ain't really fair, it really is over. RIP, Yogi.
To subscribe, please click here.
---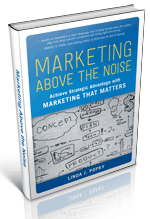 My new book, Marketing Above the Noise: Achieve Strategic Advantage with Marketing that Matters, is now available.
---
Let us help your business rise to the top.
linda@popky.com
(650) 281-4854
www.leverage2market.com