Yesterday in New York City, the Society for the Advancement of Consulting (SAC) presented its inaugural awards for consultants who advanced the profession of consulting.

A team of SAC members worked diligently to develop the process for selection, then reviewed candidates and determined who deserved the award.
The 4 criteria used to rank applicants were:
Client Success
Innovation
Advocacy/Growth by Association
Resilience
We can adapt these criteria to fit almost any area of business:
What do you do to make your customers more successful?
How do you encourage innovation in your area?
How do you advocate for others and work together for mutual success?
How resilient are you when the inevitable downturn or crisis hits–how do you bounce back?
Andrew Hollo, honored as an established consultant, noted that he became significantly more successful when he changed his mindset to get rid of erroneous beliefs.
Amy Segami, the emerging consultant winner who paints on water, noted that all things flow. Nothing stands still. You need to understand how to use the flow to move forward.
How would you rate yourself on these four criteria? What are you doing to make sure your business is moving forward with the right mindset?
How do you act in a climate of change? Read my article.
Join me for the free online video interview series The Inspired Leadership Show: Discovering Secrets to Being an Effective Leader Through Communication, Positive Influence and Sustainable Productivity. My episode is live NOW!
Contact me to find out how to get heard above the noise.
---
Check out our marketing thought leadership podcasts and the video trailer for my book, Marketing Above the Noise: Achieve Strategic Advantage with Marketing that Matters.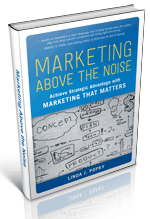 .
---
Let us help your business rise to the top.
linda@popky.com
(650) 281-4854
www.leverage2market.com