Tonight is Halloween–the night when kids of all ages dress in costume and knock on doors saying, "Trick or treat."

The expectation is that their goodie bags will be filled with lots of tasty treats–without any tricks involved.
Our customers love when we treat them, too. Most organizations will focus on customer appreciation days or events and they are quick to tell us they love their customers.
But how often do customers feel tricked instead of treated? What happens between the appreciation events? Have you instilled a culture that lets staff and employees know they should be treating customers well every single day?
Too often, not paying attention to customers causes them to be spooked. And the result of that could haunt you for a long, long time.
How do you act in a climate of change? Read my article.
Join me for the free online video interview series The Inspired Leadership Show: Discovering Secrets to Being an Effective Leader Through Communication, Positive Influence and Sustainable Productivity. My episode is live NOW!
Contact me to find out how to get heard above the noise.
---
Check out our marketing thought leadership podcasts and the video trailer for my book, Marketing Above the Noise: Achieve Strategic Advantage with Marketing that Matters.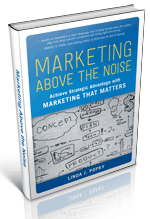 .
---
Let us help your business rise to the top.
linda@popky.com
(650) 281-4854
www.leverage2market.com