The economy is beginning to open up–across the US, and in many other parts of the world.

While we don't yet know exactly how this process will unfold, one thing is certain: The ways we interact with others will change dramatically. This will most likely result in lengthier waits in many areas, as establishments take additional precautions to protect both employees and customers.
Last weekend, we took our dog to the vet to checkout a sore leg (turned out to be only a mild sprain).
Humans are no longer allowed inside the vet clinic. We parked in a numbered spot in their lot and interacted with the staff via phone.Before the dog was allowed in the clinic, we had to confirm all the people in the car were not experiencing any COVID-19 symptoms. A technician then came and took him inside where he was seen by a vet who called us with her findings. He was then returned to us in the car, with his new meds, and a copy of the credit card receipt.
What occurred to me is the vet waiting room has now moved from the inside of the clinic to customers' own cars. Doctor offices are doing something similar: you call when you arrive, answer screening questions, then get a quick temperature check before being allowed inside when it's your turn to be seen.
When we can't (or don't want to) physically go into a store, we wait for curbside pickup or home delivery. We wait for Fedex, UPS, and Amazon deliveries. We wait for DoorDash or GrubHub or Instacart.
No one likes waiting anymore than absolutely necessary. As the recovery continues, those organizations that are able to cut down the wait or use the wait time most creatively will stand out from the crowd.
Don't wait to start working on how to address this for your business.
Contact me to find out how you can get heard above the noise – even in a crisis situation.
---
Check out our marketing thought leadership podcasts and the video trailer for my book, Marketing Above the Noise: Achieve Strategic Advantage with Marketing that Matters.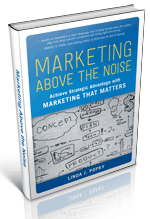 .
---
Let us help your business rise to the top.
linda@popky.com
(650) 281-4854
www.leverage2market.com