This week, we mark the one year anniversary of the COVID-19 pandemic.

Exactly a year ago, we were overcoming the shock of learning a deadly disease was about to ravage not just a few countries, but the entire globe. The world as we knew it began to change dramatically.
Since then, over 520,000 Americans alone have died from COVID-19 and nearly 29 million people became infected. We were introduced to the concept of social distancing, learned the meaning of WFH, the pros and cons of remote learning for teaching kids, and how to spell Zoom. As many as 18 million people were put out of work at one point, and 8 million people slipped into poverty at a result of the pandemic. And no one could find any toilet paper!
But there have been bright spots in this gloominess. An unprecedented global collaborative effort resulted in the creation of multiple safe and effective vaccines in an extremely short period of time. We've learned how mask-wearing prevents infection. We've developed a much better understanding of the importance of those lower-paid workers who keep the economy running. We've even given them a much classier name: essential workers.
We've seen entrepreneurship and creativity flourish. We've seen the incredible dedication of medical personnel and first responders. We've seen communities come together to help and support those in need.
As we move to what's next, what lessons will we learn? What habits are worth keeping, and what behaviors should we not ever tolerate? What innovations should we continue to adopt and where are we better off going back to the way things were done before all this started?
Where will be next March? What difference will a year make?
Contact me to find out how you can get heard above the noise–even in a crisis situation.
---
Check out our marketing thought leadership podcasts and the video trailer for my book, Marketing Above the Noise: Achieve Strategic Advantage with Marketing that Matters.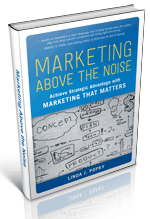 .
---
Let us help your business rise to the top.
linda@popky.com
(650) 281-4854
www.leverage2market.com