The list of industries suffering due to the COVID-19 pandemic includes travel and hospitality, retail, restaurants, and many more. But there are industries that are doing quite well during this situation.

It makes sense that grocery stores, drugstores, and big box stores like Target or WalMart are thriving–we still need to eat, take our medicine, and buy supplies. It's also to be expected that home delivery services–for everything from groceries to prepared food to all kinds of supplies–are thriving.
While many people are struggling during this time, others who still have jobs find they have extra money in their pockets. They are no longer traveling–which means no big summer vacation expenses, no cruises, and no airplane flights, hotels, or rental cars. They aren't going to the theatre or the movies, eating in restaurants, attending sporting events or concerts, or using their regular personal services (haircuts, massage, nails, etc.).
Instead, people are re-channeling the money saved into other areas. Sales at DIY home improvement stores are way up, as is the demand for contractors and other home remodeling specialists. People are spending more time baking, planting gardens, landscaping, learning new skills, and preparing for self-contained driving trips, rather than long-distance vacations.
It's not that people are no longer spending money. It's that they're spending money differently. And it's likely that at least some of these changes will stick after the immediate crisis is over.
How is your business adapting to your customers' new purchasing habits? What can you do to make sure the value you provide in today's environment hits home?
Contact me to find out how you can get heard above the noise–even in a crisis situation.
---
Check out our marketing thought leadership podcasts and the video trailer for my book, Marketing Above the Noise: Achieve Strategic Advantage with Marketing that Matters.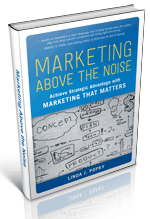 .
---
Let us help your business rise to the top.
linda@popky.com
(650) 281-4854
www.leverage2market.com