The boys of summer are back! Well, at least for now.

Major League Baseball started a truncated 60-game season this past week. There are new rules–like the designated hitter applies in both leagues and extra inning games start with a runner on second base.
More importantly, there are COVID restrictions. No fans are allowed in the park. Players have to wear masks when not on the field and maintain social distance. Broadcasters call the game from afar.
Yet, in spite of this, the game is being played. Cardboard cutouts of fans line the seats behind home plate. Crowd noise from baseball video games is piped in to simulate fan reactions. Players restrain themselves with socially distanced post-game celebrations.
Most of the time. A major COVID outbreak amongst the Miami Marlins has led to cancellation of not only their games, but those of the Philadelphia Phillies, who were the last team the Marlins played, and the two teams the Marlins and Phillies were supposed to play next.
While the NBA has sequestered players in a "bubble" in Orlando, FL, baseball games are being played at stadiums across the country. This provides much more opportunity for league personnel to expose themselves and others to the virus–possibly shutting down the whole operation.
The world has been anxiously awaiting the return of live sporting events. We're all cheering on those teams who are able to play, but it's important not to forget this summer the ball is in COVID's court, not ours.
Contact me to find out how you can get heard above the noise–even in a crisis situation.
---
Check out our marketing thought leadership podcasts and the video trailer for my book, Marketing Above the Noise: Achieve Strategic Advantage with Marketing that Matters.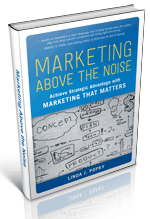 .
---
Let us help your business rise to the top.
linda@popky.com
(650) 281-4854
www.leverage2market.com