Yesterday, an enormous explosion shook Beirut, Lebanon–killing hundreds, injuring thousands, and leaving a large part of the city in ruins. The blast was so strong it mimicked a 3.5 earthquake and was felt hundreds of miles away.

It appears that this explosion was an accident–the result of a large amount of highly explosive materials being improperly stored in a warehouse near the center of the city.
Lebanon has been a country in turmoil for years. Piling this tragedy on top of an ineffective government in the midst of a global pandemic seems insurmountable. Already, countries across the globe have stepped up to offer assistance–including some, like Israel, who have been at odds with Lebanon for years.
The worst part of this is that it didn't need to happen. Local authorities have been warning of this extremely unsafe situation for nearly six years. Yet, their warnings went unheeded and the result is massive devastation.
We can look at this situation and shake our heads. But how often do we have accidents like this waiting to happen that don't receive proper attention? Not building up the national supply of emergency supplies for a possible pandemic situation is just one example, but there are many such situations in both the government and private sectors.
Where are the ticking time bombs in your organization? What warnings have you been ignoring–because there are higher priorities, or because you just think "it will never happen here?"
As Beirut learned yesterday, we ignore legitimate warnings of potential crises at our peril.
Here's a list of support organizations that are helping respond to the situation in Beirut.
Contact me to find out how you can get heard above the noise–even in a crisis situation.
---
Check out our marketing thought leadership podcasts and the video trailer for my book, Marketing Above the Noise: Achieve Strategic Advantage with Marketing that Matters.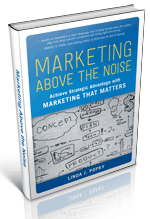 .
---
Let us help your business rise to the top.
linda@popky.com
(650) 281-4854
www.leverage2market.com