The sports world was reeling on Sunday with the news that LA Lakers superstar Kobe Bryant was one of nine people killed in a helicopter crash just outside Los Angeles.

Sitting in a restaurant in Palm Springs, it seemed like all the air had been sucked out of not just the room, but all of Southern California.
Kobe, his daughter Gianna and the other passengers were on their way to a basketball game at a league Kobe had established.
The response has been stunning: sports teams, celebrities, and politicians have all praised Kobe, with NBA teams starting games by standing still for a 24 second violation, in honor of Kobe's #24. Thousands of people have converged on the Staples Center in LA to mourn Kobe.
While Kobe's death is certainly a loss, we have to remember that three other families are mourning the loss of loved ones, and this is just one of many aviation accidents that have occurred over the last year.
What's frustrating about this particular situation is that the NTSB appears to have made recommendations to the FAA for safety improvements to helicopters after previous crashes–but these recommendations were ignored.
Maybe things will be different this time. The loss of a superstar athlete may bring enough attention to change the process. Let's hope no more lives will be shattered like this.
Contact me to find out how you can get heard above the noise.
---
Check out our marketing thought leadership podcasts and the video trailer for my book, Marketing Above the Noise: Achieve Strategic Advantage with Marketing that Matters.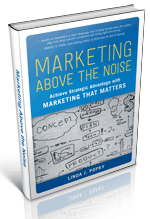 .
---
Let us help your business rise to the top.
linda@popky.com
(650) 281-4854
www.leverage2market.com