This week the Democratic party held its caucuses in Iowa and the winner was……

Three days later, we still don't really know. The new app that was supposed to streamline the process crashed and threw the whole process into turmoil.
This seems to have caught the Iowans totally by surprise. But having lived in Silicon Valley for 30 years, I find this disappointing but not shocking.
We love our technology. Many of us can't imagine how we lived before Fedex, email, Smart Phones, Facebook, Google, Amazon, Instagram, etc. We have new medical devices that save lives and new products that bring us capabilities we never even considered just a few years ago.
But what we can't ever forget is that all new technology has bugs. No matter how accomplished the developers, there are issues that don't come out until the new technology is tested under real-world type conditions. The problem is too many times that testing occurs in the real world under stressful situations, rather than in lower risk testing environments.
The result? Something breaks. Sometimes that something is minor; other times it brings a primary caucus to its knees.
We've seen this happen so many times that we know this is the way things work. Yet too many times we still try to rush through a new tool to meet a key deadline. The higher risk the situation, the more necessary it is to thoroughly test before releasing the product or process into "the wild."
Make sure you test well when it really counts. Caveat emptor.
Contact me to find out how you can get heard above the noise.
---
Check out our marketing thought leadership podcasts and the video trailer for my book, Marketing Above the Noise: Achieve Strategic Advantage with Marketing that Matters.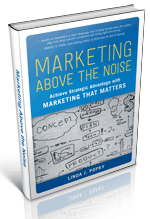 .
---
Let us help your business rise to the top.
linda@popky.com
(650) 281-4854
www.leverage2market.com