Strong brand icons become trusted friends–almost feeling like family. That's why it was such a shock to many of us to hear that Mr. Peanut, the symbol of Planters Peanuts for over 100 years, is about to meet his demise on Super Bowl Sunday.

It appear the esteemed nut spokesperson will sacrifice himself to save his companions during an ad to be shown during the Super Bowl. While this may be sad for many Mr. Peanut lovers, it's especially difficult for those of us who grew up in Northeastern Pennsylvania.
You see, Mr. Peanut and the Planters Nuts & Chocolate Company originate from my home town of Wilkes-Barre. For decades, Mr. Peanut stood guard outside the Planters headquarters on South Main Street and in the city's Public Square. He now resides in the Smithsonian Institute.
Why did Planters decide to kill off such an icon? Perhaps it was to get the kind of attention this announcement is generating. If so, it's a brilliant strategy. There's no way Planters could afford to buy the coverage they're getting with this announcement. And many of us will be on the lookout for this particular ad on Super Bowl Sunday to see exactly what fate awaits this big nut.
Will February 2nd be the real end of 104-year-old Mr. Peanut…or will he rise again to spread goodness for another generation? Tune in and see.
---
Check out our marketing thought leadership podcasts and the video trailer for my book, Marketing Above the Noise: Achieve Strategic Advantage with Marketing that Matters.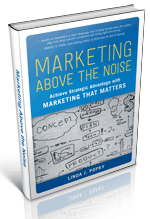 .
---
Let us help your business rise to the top.
linda@popky.com
(650) 281-4854
www.leverage2market.com