Herb Kelleher, the founder of Southwest Airlines, passed away last week at the age of 87. Though he had passed on the mantle of active leadership over 10 years ago, he remained involved with the company until his death.


In 1967, Kelleher and a colleague sketched out the concept for a low-cost airline service Texas. It took 4 years of legal battles with existing airlines before they could take their first flight. Today, the airline has 58,000 employees serving 4000 flights per day.
What hasn't changed in that time is Southwest's commitment to not just low cost fares but also a culture where employees don't take themselves or their jobs too seriously. There's no first class on a Southwest 737 (and that's the only plane they fly), but there's also the feeling the crew is enjoying their job and glad you're there with them.
On a recent flight, the captain came on to tell us, in a most serious voice, that he was sorry to say that he'd just heard the weather in Seattle was horrible. We all looked at each other strangely–until he added, "Good thing we're not going to Seattle!"
That kind of fun attitude has never caught on with the mainstream airlines. When was the last time you saw a United or Delta captain joke like that? I imagine if they did, they might no longer be employed when they landed.
It's this kind of attitude that has consistently made Southwest one of the most admired companies in America.
RIP, Herb Kelleher. Your vision continues to soar 4000 times each day.
Contact me to find out how to get heard above the noise.
---
Limited time to devote to marketing? Check out our weekly Just a Moment for Marketing videos. They only take a minute.
Check out our marketing thought leadership podcasts.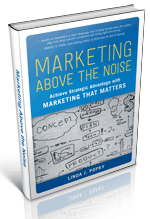 Check out the new video trailer for my book, Marketing Above the Noise: Achieve Strategic Advantage with Marketing that Matters.
---
Let us help your business rise to the top.
linda@popky.com
(650) 281-4854
www.leverage2market.com