Gillette, the 117 year old producer of razors and shaving supplies, startled audiences this week with a new ad celebrating the 30th anniversary of their slogan "The Best a Man Can Get."

The new web ad, called "The Best a Man Can Be," addresses such negative behavior as bullying, sexism, and "male toxicity," and encourages men in this #MeToo era to practice more positive behavior in order to be their best. Shavers and blades are barely mentioned.
It's a daring move, and, as might be expected, it has generated much controversy. Some people think it's great. Others hate it. Still others think it's a nice try but poorly executed.
It's too soon to know if this will be successful. But one thing is certain: People who haven't thought about Gillette for years (or ever) are now talking about the brand.
In this industry, the razor is usually given away to sell the blades. Once they've got Gillette's razor, they're hooked. Except that today there are more interesting and lower-cost offerings, like Dollar Shave Club and Harry's, aimed at younger men. Millennials likely aren't hooked on Gillette products and probably haven't been thinking much about Gillette at all–until now.
One way to be heard above the noise is to do something different and a bit outrageous. Yes, you run the risk of getting cut when you shave too close. But is it better to slip away into obscurity because you're afraid to sharpen the blade?
Contact me to find out how to get heard above the noise.
---
Limited time to devote to marketing? Check out our weekly Just a Moment for Marketing videos. They only take a minute.
Check out our marketing thought leadership podcasts.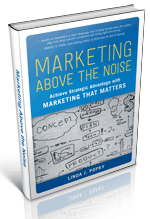 Check out the new video trailer for my book, Marketing Above the Noise: Achieve Strategic Advantage with Marketing that Matters.
---
Let us help your business rise to the top.
linda@popky.com
(650) 281-4854
www.leverage2market.com