If going to the movie theatre once or twice a month is a good thing, going much more often would be even better, right?

That was the premise behind the all-you-can-eat ability to see unlimited films in theatres introduced by MoviePass in 2011 for one low fee.
How did they make money on that? They didn't. In 2016, they revamped the program to limit the number of movies that could be seen. Theatres pushed back, so in 2017 the service limited options even further, with still other limitations in 2018.
Meanwhile, the number of subscribers grew from 20,000 in 2016 to 3 million in 2018, when they lost $40 million dollars. They were losing money and hoping to make it up on volume.
This week, the stock of MoviePass's parent company was delisted by NASDAQ because it no longer meets the minimum price threshold ($1) for listing.
It's not that the idea itself was bad–Cinemark and AMC have created their own versions of the concept, albeit with limitations on what's included. It's that MoviePass focused totally on gaining market share without any consideration of what this would do to their bottom line.
You can't continue to hemorrhage money forever. Which is why this week MoviePass  is seeing the final credits begin to roll.
Contact me to find out how to get heard above the noise.
---
Limited time to devote to marketing? Check out our weekly Just a Moment for Marketing videos. They only take a minute.
Check out our marketing thought leadership podcasts.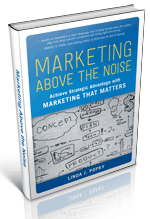 Check out the new video trailer for my book, Marketing Above the Noise: Achieve Strategic Advantage with Marketing that Matters.
---
Let us help your business rise to the top.
linda@popky.com
(650) 281-4854
www.leverage2market.com