The New England Patriots beat the Los Angeles Rams in the Super Bowl on Sunday in Atlanta  to win their sixth NFL championship since 2002.

Kudos to the Patriots and Tom Brady for pulling this off. They did it in what was the lowest scoring game in Super Bowl history, with the smallest television audience for a Super Bowl in 11 years–98 million people.
That's still a pretty impressive group of people to gather for a single televised event. Many of these folks tune in not to watch the game, but for the halftime show or to see the ads–the most expensive TV ad placements available ($5.25 million for a single 30-second spot).
While there were a few clever or interesting commercials this year, many of the ads weren't any more exciting than watching a low-scoring Super Bowl game with just a single touchdown. It almost seems like rating the events on Super Bowl Sunday has become more interesting than the game itself.
There was a time when Super Bowl Sunday was a not-to-be-missed event. The NFL has been struggling recently with head injury issues, the controversy about the national anthem, and decreased television audience–plus a plethora of other sporting events that distract viewers.
Maybe it's time for the league to take a fresh look at how they approach the game, their players, and their target audience. It's time to huddle about how to improve their offering–before we're all totally bowled over.
Contact me to find out how to get heard above the noise.
---
Limited time to devote to marketing? Check out our weekly Just a Moment for Marketing videos. They only take a minute.
Check out our marketing thought leadership podcasts.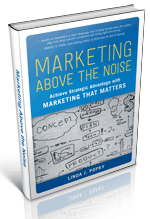 Check out the new video trailer for my book, Marketing Above the Noise: Achieve Strategic Advantage with Marketing that Matters.
---
Let us help your business rise to the top.
linda@popky.com
(650) 281-4854
www.leverage2market.com