Measles is a highly contagious disease that sickened nearly 50,000 people a year, killing 500 in the mid-1950s. It was practically eradicated by the end of the 20th century.


Until it wasn't. In 2012, there were only 55 cases reported throughout the country. The state of Washington alone has already reported more than 150 cases so far this year.
Why? Many parents, concerned about vaccine side effects, have decided to not vaccinate their kids . While the original studies that said vaccines were unsafe were debunked years ago, the perception remains that it is somehow more dangerous to get vaccinated than to contract any of the serious, potentially deadly diseases the vaccines prevent.
Scientists talk about herd immunity–vaccinating a large percentage of a group, or herd, nearly eliminates the possibility of any individual unvaccinated member catching the disease. When vaccination rates drop below a certain threshold, that immunity disappears. The people most likely to get sick are infants and children too young to get vaccinated, the elderly, or people with compromised immune systems.
We live in a country where individual freedom is highly prized–we feel we should be able to choose what we can and can't do without government intervention. But when the actions of one individual endanger others, we need to consider the greater good.
Smoking has been eliminated in most public places, because of the danger to nonsmokers, as well as the smoker. Driving under the influence is illegal because it endangers others on the road, in addition to the driver. Children without vaccinations endanger other school children–which is why vaccinations should be mandatory unless there is a compelling medical need for a specific child to not be included.
Sometimes the safest place to be is in the midst of the herd. And to maintain that safety, we need to be vigilant about maintaining the power of the herd.
Contact me to find out how to get heard above the noise.
---
Limited time to devote to marketing? Check out our weekly Just a Moment for Marketing videos. They only take a minute.
Check out our marketing thought leadership podcasts.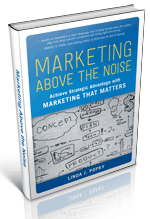 Check out the new video trailer for my book, Marketing Above the Noise: Achieve Strategic Advantage with Marketing that Matters.
---
Let us help your business rise to the top.
linda@popky.com
(650) 281-4854
www.leverage2market.com