Yesterday, the country stopped to honor George H W Bush, the 41st president of the United States, who died last weekend at age 94.

George H W Bush represents the end of an era. Not only was he one of the last presidents to serve in WWII, he also served his country as a congressman, ambassador, head of the CIA, vice president and then president.
Flags were put at half-staff, government offices were closed, postal deliveries were halted. And all living presidents came together to honor him at the service at Washington Cathedral–including Carter, Clinton, Obama, Trump, and George W Bush, who eulogized his father.
While many people disagreed with Bush 41 on his policies and politics, most say he was not disagreeable. In fact, he went out of his way to be diplomatic, as evidenced by the warm letter he sent to Bill Clinton welcoming him to the presidency after Clinton defeated Bush in 1992.
We appear to have lost the civility and decorum that was exhibited by the Bushs throughout their lives in public service, and by the 5 living ex-Presidents who attended his service. This incivility doesn't stop in Washington–we see it throughout the country in how people treat those who hold opposing points of view.
Ending the era of incivility and polarization would be a fitting tribute to Busch 41 and the other public servants who have held the office.
Contact me to find out how to get heard above the noise.
---
Limited time to devote to marketing? Check out our weekly Just a Moment for Marketing videos. They only take a minute.
Check out our marketing thought leadership podcasts.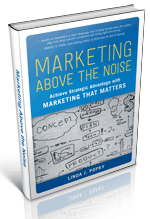 Check out the new video trailer for my book, Marketing Above the Noise: Achieve Strategic Advantage with Marketing that Matters.
---
Let us help your business rise to the top.
linda@popky.com
(650) 281-4854
www.leverage2market.com