It seems like each year the race to the holiday shopping season gets a little faster, and starts a little earlier.


This year, a number of stores opened early on Thanksgiving to give shoppers an early chance to get those holiday buys. Black Friday sales started way before Black Friday. Online, CyberMonday mixed in with Black Friday. And that's not to mention Small Business Saturday, among others.
Funny thing, though. The stores didn't seem as crowded on Thanksgiving weekend as they've been in the past. Maybe online sales really are replacing brick and mortar retailers.
Or maybe spreading the traditional launch of holiday shopping across days and weeks is hurting stores more than helping them. There is only so much money allocated for holiday shopping in most families. When every day is a big sale, followed by an even bigger one tomorrow, the excitement and exclusivity of a special day is lost. When you start to see Xmas gifts and decorations at Costco around Labor Day, why does anyone care about a specific shopping day in late November?
Maybe it's time to retire Black Friday from the lexicon. Or maybe it's time to rethink whether there might not be a better way to get your customers' attention.
The long-term winners of this competition will be the merchants who understand how to build relationships, create innovative experiences, and deliver the kind of support and service that keeps customers coming back–on a regular, ongoing basis, even after the heavily discounted specials go away.
Meanwhile, the cost-cutting, special deal, low-margin, get-it-while-it's-hot merchants are racing their way into oblivion.
Contact me to find out how to get heard above the noise.
---
Limited time to devote to marketing? Check out our weekly Just a Moment for Marketing videos. They only take a minute.
Check out our marketing thought leadership podcasts.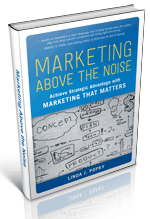 Check out the new video trailer for my book, Marketing Above the Noise: Achieve Strategic Advantage with Marketing that Matters.
---
Let us help your business rise to the top.
linda@popky.com
(650) 281-4854
www.leverage2market.com