We're reaching the time of the year when things start to wind down. The holiday season is here, complete with shopping, eating, and celebration. Conventional wisdom says it's not a good time to focus on your business.


Or is it?
Here's the thing: If you dial down your business now, you'll feel the effects in early 2019. That's why this is a great time to put MORE focus on your business.
True, this may not be the best time to make new sales calls or conduct extensive offsite meetings. But there are a host of other things you can do now to ensure a smooth start to the coming year:
Reach out to clients and prospects to thank them for their business and remind them you are here to help them in the future.
Think about what you'd like to change in the coming year. Do you want to introduce a new product or service? Target a new market? Add new customers for your existing services?
Consider what you'll need to do differently to make your business more successful in 2019. What needs to change to achieve different results?
Review your current marketing efforts. What's working? What hasn't performed as well as you expected? What needs to be tweaked?
Lay out your proposed marketing activities for the next year. Where are there gaps? Overlaps? Outdated messaging?
Just as importantly, what should you consider not doing in the future? Where can you eliminate activities that don't provide value but take up time and money?
Identify what you can do yourself and where you will need support. Then reach out now to engage the resources you'll need in the future.
Going through this exercise now while others are distracted will give you a good jump on the competition.
Contact me
to find out how to get heard above the noise.
---
Limited time to devote to marketing? Check out our weekly Just a Moment for Marketing videos. They only take a minute.
Check out our marketing thought leadership podcasts.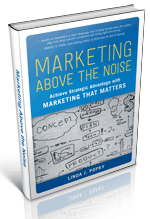 Check out the new video trailer for my book, Marketing Above the Noise: Achieve Strategic Advantage with Marketing that Matters.
---
Let us help your business rise to the top.
linda@popky.com
(650) 281-4854
www.leverage2market.com