The Internet has gone crazy over a holiday ad from exercise company Peloton. A husband gives his (already fit) wife a Peloton bike as a holiday gift, then follows her story as she uses it to become even more fit, saying "I didn't realize how much this would change me."

The viral buzz labeled this ad as sexist, promoting negative body image, privilege, and bad marital dynamics. Within 3 days, Peloton lost $1.5 billion of market value as a result of the backlash.
Both the company and the actress in the spot were stunned by the response. The actress says perhaps this was due to the expression on her face, which could be interpreted as fearful (Why would that be the expression chosen for the final take? Inquiring minds want to know.).
Actor Ryan Reynolds seized the opportunity to hire the same actress for a spot for his tequila brand, where she is shown downing a margarita, with the tagline "exercise bike not included."
Other brands have run ads that created a strong backlash. Some, like Nike, even do this purposely. But the key difference is they make the decision that it's worth alienating some viewers in order to build a stronger bond with a key customer segment. That doesn't appear to be the case here.
It was the company's response (or lack thereof) to the criticism that really fell flat. This is not the first time Peloton has found itself defending its "beautiful people in gorgeous settings need this expensive equipment" approach to marketing. Yet a company spokesperson said Peloton was "disappointed" that the commercial had been "misinterpreted"–implying that it was the viewers who were at fault for their reaction.
Anyone can take a bad fall. But it's how a company picks itself up and gets back on the bike, so to speak, that portends whether they'll still be in the race moving forward.
How do you act in a climate of change? Read my article.
Join me for the free online video interview series The Inspired Leadership Show: Discovering Secrets to Being an Effective Leader Through Communication, Positive Influence and Sustainable Productivity. My episode is live NOW!
Contact me to find out how to get heard above the noise.
---
Check out our marketing thought leadership podcasts and the video trailer for my book, Marketing Above the Noise: Achieve Strategic Advantage with Marketing that Matters.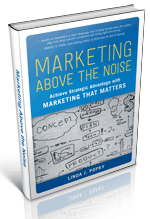 .
---
Let us help your business rise to the top.
linda@popky.com
(650) 281-4854
www.leverage2market.com