For 75 years, the Hallmark Company has used the marketing slogan, "When you care enough to send the very best."

Last week, we found out that you can't send the very best if you're not representing the traditional view of marriage.
The Hallmark Channel refused to air ads from a wedding planning service that featured two women kissing during their wedding ceremony. Hallmark said the kiss violated their policies, though a similar ad from Zola with an opposite-sex couple appeared to be fine.
The decision sparked such an outrage that on Monday the company reversed its stand and decided to allow the same-sex ad. But the damage is done. By specifically excluding a segment of their customer base, Hallmark has made it clear they don't value these individuals and their business is not welcome.
Today's political environment has made it acceptable to deride people who are different–whether that's because of their ethnicity, race, sexuality, or disabilities. Not only is this morally and ethically wrong, as Hallmark found out this week, it's also bad for business.
Maybe it's time for Hallmark to revisit what "the very best" really means.
How do you act in a climate of change? Read my article.
Join me for the free online video interview series The Inspired Leadership Show: Discovering Secrets to Being an Effective Leader Through Communication, Positive Influence and Sustainable Productivity. My episode is live NOW!
Contact me to find out how to get heard above the noise.
---
Check out our marketing thought leadership podcasts and the video trailer for my book, Marketing Above the Noise: Achieve Strategic Advantage with Marketing that Matters.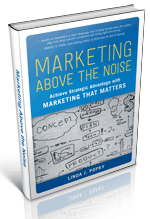 .
---
Let us help your business rise to the top.
linda@popky.com
(650) 281-4854
www.leverage2market.com