This week, after months of speculation, presumptive Democratic presidential candidate Joe Biden announced that California Senator Kamala Harris will be his running mate.

With this selection, the campaign will finally be moving into the home stretch before the November election. Virtual nominating conventions will be held in the next couple of weeks, but they are practically irrelevant, since we know exactly who will be nominated for each party.
Kamala Harris will be only the third woman nominated for the vice presidential office by a major political party. She's also the first Black and the first Asian American candidate in this role. Her nomination will inspire many Americans who feel other candidates have not reflected the profile of America today, while creating animosity from others who would have preferred more traditional choices.
Whether the Biden/Harris slate will win is still to be determined. But this choice will move America forward to match the example set by many of our allies across the world. Choosing women, people of color, and those of varying ethnicities and religions is not an issue in many countries. America will join their ranks when the gender, race, ethnicity, religion, or sexual preference of its leaders is no longer news-worthy.
The good news is we are finally taking steps to make that happen.
Contact me to find out how you can get heard above the noise–even in a crisis situation.
---
Check out our marketing thought leadership podcasts and the video trailer for my book, Marketing Above the Noise: Achieve Strategic Advantage with Marketing that Matters.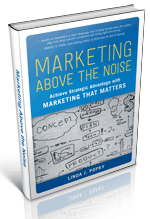 .
---
Let us help your business rise to the top.
linda@popky.com
(650) 281-4854
www.leverage2market.com