Yesterday, all the games in the NBA and WNBA were postponed, as were many MLB games.

Players, coaches, and even broadcasters walked off their jobs in protest of yet another unarmed Black man being shot in the back, followed by two people killed and another injured by a white teenager, who says he is part of "the militia."
Is this an extreme action? Absolutely. When the Milwaukee Bucks refused to get on the court, they were potentially sacrificing an NBA championship. But other teams followed suit in a move of solidarity. The WNBA did the same, as did a number of Major League Baseball teams.
Why was such an extreme action necessary? Because in spite of all of the outrage and reaction to the deaths of Ahmed Aubrey, Breonna Taylor, and George Floyd, this kind of thing keeps happening again and again. The only difference is this time Jacob Blake was not killed–only seriously injured and potentially paralyzed for life.
Sometimes going through the normal channels doesn't work. Sometimes the way to be heard above the noise is to make all the noise stop. Sometimes the best way to effect change is to take actions that are so dramatic, they're impossible to ignore.
The NBA Playoffs resume today. Let's hope the actions that precipitated the walkout do not.
Contact me to find out how you can get heard above the noise–even in a crisis situation.
---
Check out our marketing thought leadership podcasts and the video trailer for my book, Marketing Above the Noise: Achieve Strategic Advantage with Marketing that Matters.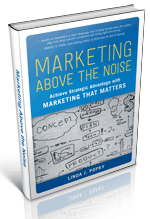 .
---
Let us help your business rise to the top.
linda@popky.com
(650) 281-4854
www.leverage2market.com