The Democratic National Convention is being held this week, not in Milwaukee, Wisconsin, but virtually.

Instead of long days of speeches, pageantry, and balloon drops, this year's event is a series of short video presentations moderated by a celebrity host, followed by livestreamed keynotes. It hasn't been perfect, but in some ways, it's a big improvement from the endless days of convention formalities that very few of us wanted to watch anyway.
Some presenters are better than others in this format, but overall, the effect has been positive. Instead of a long, drawn-out, boring roll call for each state to pledge its delegates, this year's event featured short video clips representing the unique attributes of each state. Keynotes were held in empty classrooms and isolated convention halls. No applause or crowd noise–which meant the presenters had to be that much more focused on their delivery.
Most importantly, when faced with the reality of today's situation, the conference planners pivoted. They took the tools available to them and created the most compelling event they could under the circumstances.
As in so many other ways of life, COVID-19 may have changed the way things are done from now on. Convening large groups of people in a big convention hall to formalize a nomination that is already decided no longer makes sense. The pandemic gave planners a good excuse to rethink what was important about their event.
What tried-but-tired programs, processes, and events are still in your arsenal? How can you use today's situation to jettison old methods that don't work and introduce new ways of doing things?
In today's reality, it's virtually the best thing to do.
Contact me to find out how you can get heard above the noise–even in a crisis situation.
---
Check out our marketing thought leadership podcasts and the video trailer for my book, Marketing Above the Noise: Achieve Strategic Advantage with Marketing that Matters.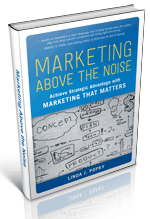 .
---
Let us help your business rise to the top.
linda@popky.com
(650) 281-4854
www.leverage2market.com