There's been much attention given to the unfortunate incident of a passenger being physically removed from a United Airlines flight on Monday, dragged, and bloodied when he refused to relinquish his seat for an airline employee.

United's initial response was to note that they were in their rights to remove the passenger, and that they were sorry he was so belligerent when ordered to leave. While that may be true, it's not where the airline should have focused–particularly when multiple cell phone videos of the event surfaced.
United, like most of us, is in the business of satisfying customers to build brand loyalty. Or, at least they should be. It took three tries and a huge market hit to United's stock before CEO Oscar Munoz put out a statement taking responsibility for what went wrong and promising to ensure these type of incidents don't happen again.
Contrast that with the behavior of Delta Airlines CEO Richard Anderson in a similar situation. Anderson voluntarily gave up his seat on an overbooked flight to allow the parent of a Type 1 diabetic child, running late due to weather delays, to reunite with her child. This incident happened nearly 4 years ago, but people are still talking about it because it exemplifies the type of CEO behavior that sets positive examples and drives corporate culture.
Will United's management team learn their lesson? Let's hope so. Right now flying United seems downright unfriendly.
To subscribe, please click here.
Contact me to find out how to get heard above the noise
---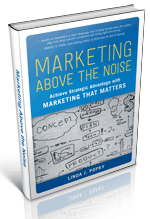 Check out the new video trailer for my book, Marketing Above the Noise: Achieve Strategic Advantage with Marketing that Matters.
---
Limited time to devote to marketing? Check out our weekly Just a Moment for Marketing videos. They only take a minute.
Let us help your business rise to the top.
linda@popky.com
(650) 281-4854
www.leverage2market.com