People remember us for many reasons. Sometimes it's because we did something unusual or outstanding. Other times it's because of something we did poorly or not at all.

I'm in Washington, DC this week with 120 other top consultants at Alan Weiss's Million Dollar Consulting Convention. This morning noted speaker Lou Heckler was memorable for combining humor with key learning points he wanted to get across.
He also spoke about the time he got outstanding customer support from a Marriott employee in North Carolina. When he was later asked to recommend a hotel for an event in that city, only one name came to mind: Marriott.
Contrast that to my experience with Budget Rentacar at Dulles Airport the other day. I arrived (on time) to find that the car I had reserved and paid for in advance was not available. In fact, there were NO cars available–for me and the other people in line.
Eventually, they found me a car somewhere. But this was the second unpleasant experience I had with Budget in 5 weeks. Was it memorable? Absolutely. Will I refer them to others, or even use them again myself? Absolutely not.
What are you doing to be memorable to your customers? And are they remembering you for the right reasons?
Are your customers being served? How sure are you about that? Read my article.
Join me for the free online video interview series The Inspired Leadership Show: Discovering Secrets to Being an Effective Leader Through Communication, Positive Influence and Sustainable Productivity. My episode is live NOW!
Contact me to find out how to get heard above the noise.
---
Check out our marketing thought leadership podcasts and the video trailer for my book, Marketing Above the Noise: Achieve Strategic Advantage with Marketing that Matters.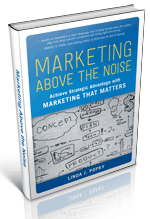 .
---
Let us help your business rise to the top.
linda@popky.com
(650) 281-4854
www.leverage2market.com